The Archbishop of Canterbury visited the Pope.
Pleasantries, plus agreeing that slavery is bad and charitable work good. Nothing really to see here. Because that's all that can happen for now.
The centuries-old divide between the Church of England and the Roman Catholic Church is a 'scandal', Pope Francis said.
They left. Violently, dragging the English people away. The countryside remained Catholic through the 1580s.
He said progress towards full unity would not be the result of human actions alone, but would be a 'free gift of God'.
Right: if they convert. They know what we teach and say no.
The Archbishop said he hoped that the collaboration with Pope Francis would lead to an 'effective challenge' to the 'unspeakable disasters of war and conflict' throughout the world.
Liberalism's a Christian heresy, but trying to argue this stuff on their terms doesn't work.
Mr Welby - who gave a gift to the Pope of a cutting from a fig tree in Lambeth Palace planted by the last Roman Catholic Archbishop of Canterbury, Cardinal Pole - added that the Church of England remained 'deeply committed' to ecumenical talks.
I think that's an example of the English saying the opposite of what they really mean.
The meeting comes as the General Synod is widely expected to give final approval next month to legislation introducing the first woman bishops in the Church of England, making the prospect of unity between the two churches appear more distant.
The real problem is the "Reformation"; the women clergy are only a symptom.
The Roman Catholic Church does not allow women to become priests.
Yeah, the big meanies. Make that: The Catholic Church teaches that it cannot change the matter of a sacrament. The Anglicans only sort of count orders as a sacrament anyway.
It hurts to see the Anglo-Catholics turn away from us, but out of respect for all of the Anglicans I don't try to tell them what to do. I try to tell the truth - their liberal high-church people have a lot in common with us and are different from Catholic liberals, but they're not coming back, barring a conversion miracle.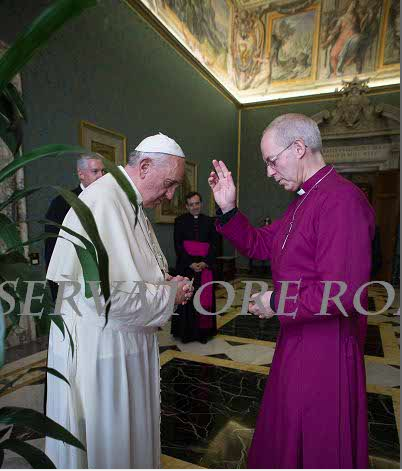 Huh?
Good thing the Pope can't change the teachings of the church.
Deus, qui nobis sub sacramento mirabili, passionis tuæ memoriam reliquisti: tribue, quæsumus, ita nos corporis et sanguinis tui sacra mysteria venerari, ut redemptionis tuæ fructum in nobis iugiter sentiamus. Qui vivis et regnas in sæcula sæculorum.
R. Amen.